PLPD.Online is the Intranet system used by the Paralake Police Department. It is the main hub for all information and tools relating to the police department. You will use this site for a variety of reasons such as Applying for Roles within the department, filing or responding to an Internal Affairs complaint, contacting your commanding officer and much more.
Registration
Registering an account on PLPD Online is very simple! All you have to do is click the Create Account button, this will redirect you to a steam login page once you login through steam you will be redirected back to PLPD Online. Once you have successfully signed in through steam all you have to do is fill in a few basic details like the Username and Password you want to use.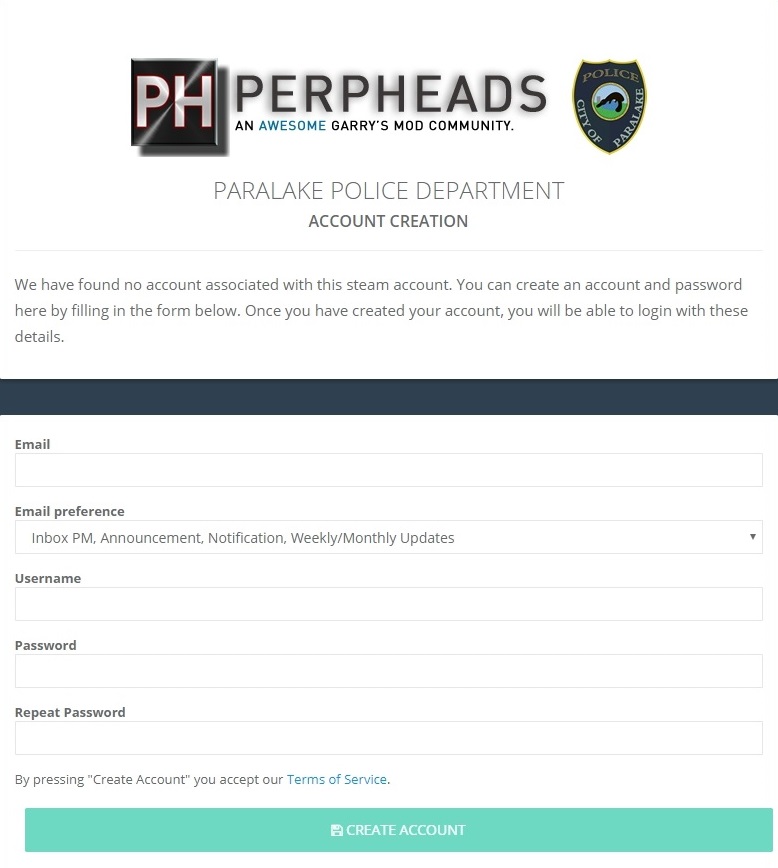 Dashboard
Once you've successfully created your account and signed into PLPD Online you will be met with the dashboard. This is the main page of the site and you will most likely always use this page. The dashboard itself only has the PLPD Shoutbox, Recent Activities and Announcement sections however you are also able to select all of the other pages.
The PLPD Shoutbox is just a small chatbox on the site for anyone who holds any rank within the department. Here you can speak to other officers, ask any questions or just generally chat. You should always adhere to the community conduct rules and Police Department policies while using this shoutbox!
Recent Activity
The recent activity tab shows off any recent promotions or awards that have been given to any officers.
Announcements
Announcements on PLPD Online are usually pretty important so it's a good idea to frequently check these. These announcements can come from any division and are used to keep Officers up to date on what's going on around the department.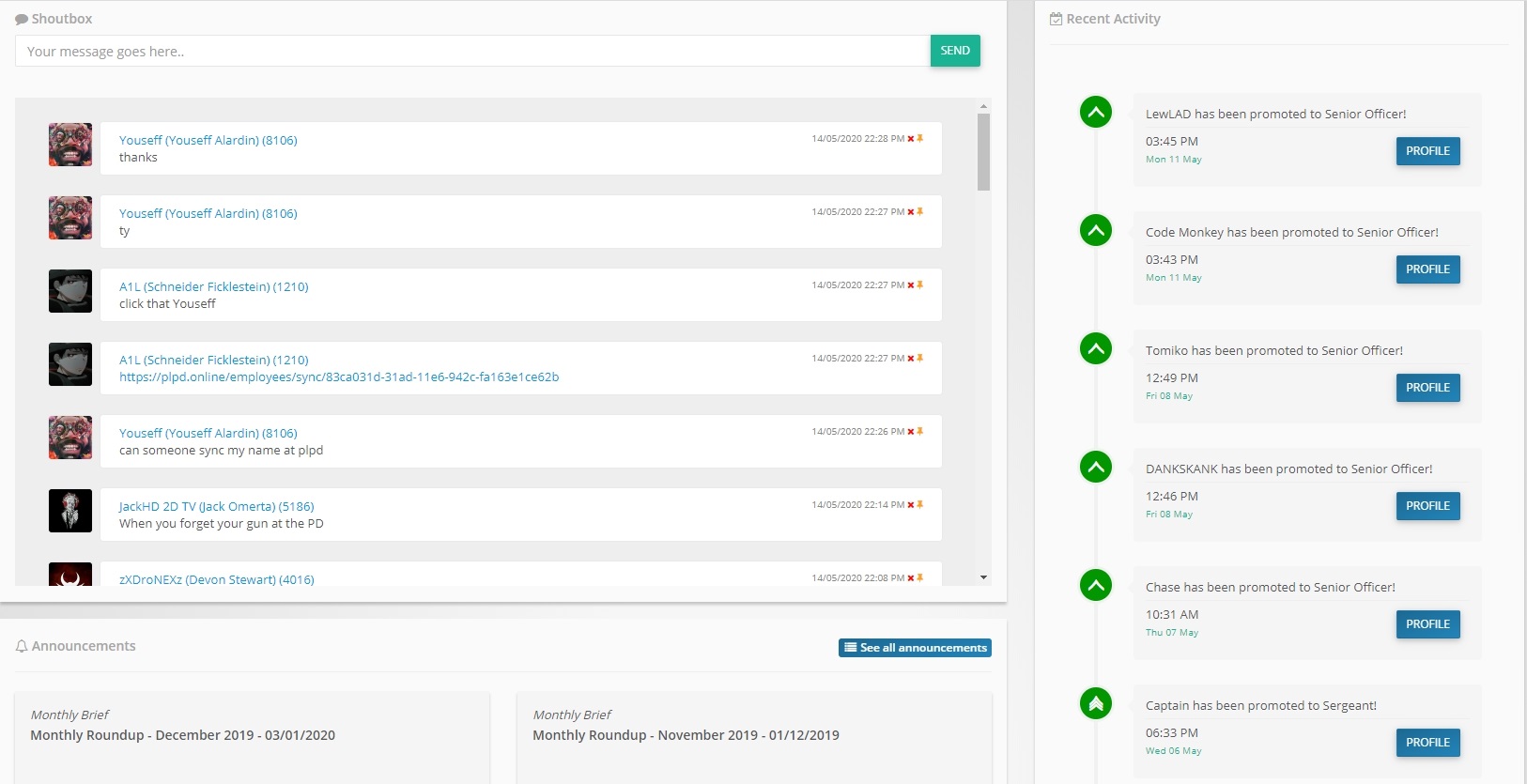 Navigation
Navigation on PLPD Online is pretty simple as all of the primary pages can be accessed from the Top and Left side navigation bars.
Top Navigation

The Top Navigation bar shows you only a few of the links avaliable however it contains some of the more important ones. On the left hand side you should see a coloured box with 3 bars inside, this just lets you hide and display the text on the side navigation to allow for more space. On the right hand side you will see more of the links. The first one you will see is the current intranet version, if you click on this link it will take you to the recent updates page. The next thing you will see is a help link, this redirects you to our helpdesk system where you can contact command teams throughout the PD. You will then see the settings link, this will open up a panel allowing you to change your timezone and theme for PLPD Online. The little box icon you see will open up your personal inbox, this is where you can send and recieve messages to other officers, this is also where you should be contacted in the case of any Internal Affairs Complaints, Application Progress and such. The notifications icon is where all of your PLPD notifications are shown, these are things like promotions, application results, helpdesk responses and so on.
Side Navigation